As a company, we – at
Acquapark
combine design, engineering, prototyping, manufacturing and assembly of water attractions, designing and producing steel and fibreglass components, taking into account European production standards, regarding both the end product and the working environment, the staff and the territory. Below are the services we offer:
Conceptual design and expert advice
Detailed design and Engineering
Manufacturing steel components
Manufacturing fibreglass components
Installation and commissioning
After sales and Maintenance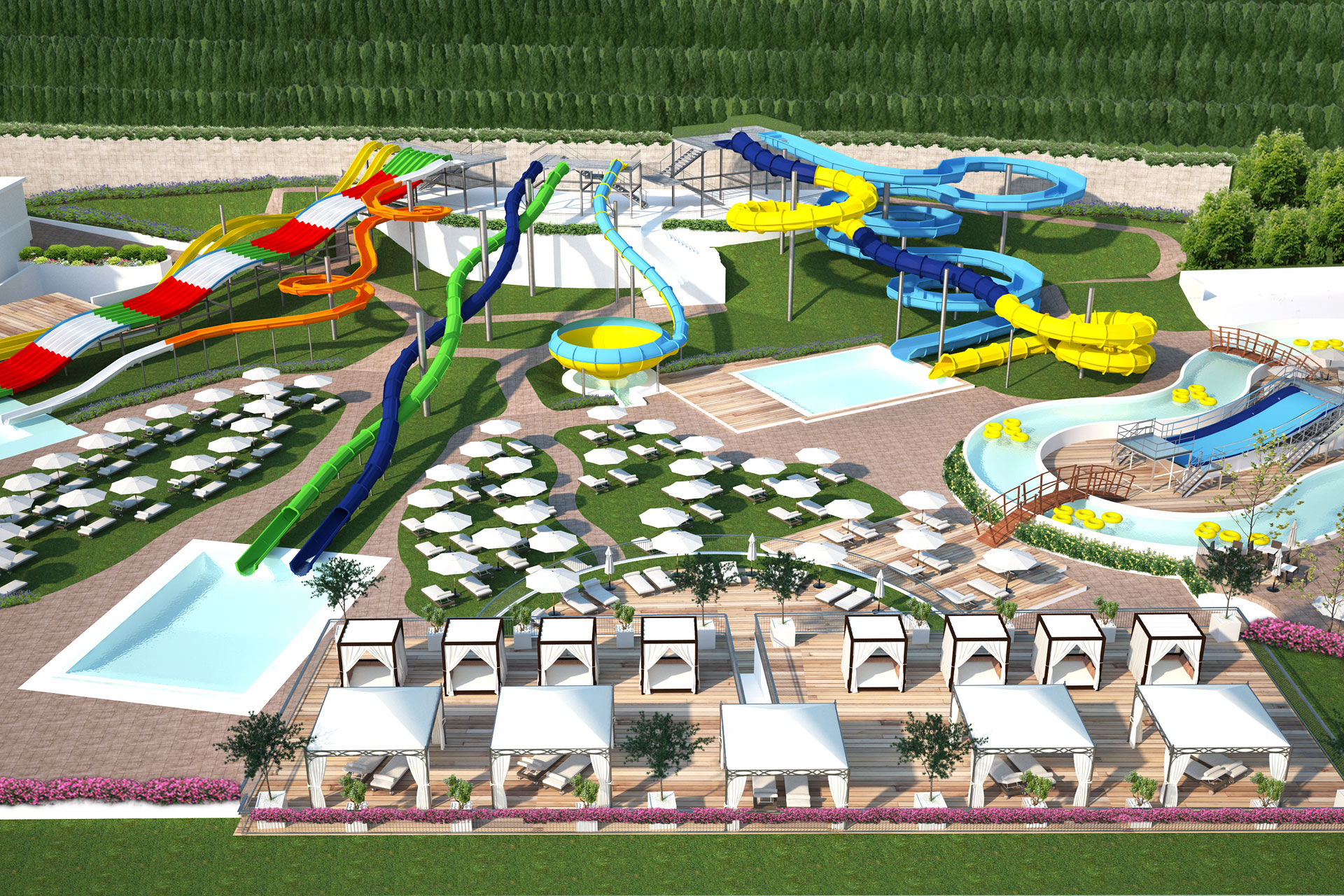 DESIGN AND CONSULTANCY
Conceptual design and Expert advice:
our technical office provides expert advice and design services by technically verifying the spaces available, proposing installations suiting the needs of the Customer and of the users.
Detailed design and Engineering: once the final design has been discussed and approved, we develop the final design through 2D and 3D graphic drawings using cutting-edge and state-of-the-art programs to show the installation prior to building it.
QUALITY AND MATERIALS
Manufacturing steel components:
We monitor the support structures of each of our installations across every design and manufacturing stage. Our structures are obtained through robust and durable solutions made galvanised steel, or stainless steel, in compliance with all regulations currently in force in the construction industry.
Manufacturing fibreglass components: When it comes to manufacturing fibreglass components, we use top-brand certified isophthalic resins and isoneopentyl gelcoat we find on the Italian market.
All our products and services are carried out in compliance with European standards:
ISO-EN
ISO-EN-1069-1: Water slides – part 1: Safety requirements, tests and methods
ISO-EN-1069-2: Water slides – part 2: Instructions
ISO-EN-17232: Waterplayground
ISO-EN-1176 + Safety requirements Carousels
ISO-EN-13814:2004: Safety of attractions and fun devices
ISO-EN-1461:2009: Hot-dip galvanising
When developing all our facilities, safety comes first: our quality control team ensures that our Customers and their guests can always feel safe. All the attractions we offer are guaranteed in compliance with the highest safety standards and the regulations in force, hence guaranteeing long durability for the attraction.
We develop and build our attractions entirely in Italy, hence ensuring they are subject to constant and rigorous quality control measures by our experienced engineers to the benefit of our Customers in Italy and abroad.
PROFESSIONALISM
We – at Acquapark – directly oversee all stages regarding the building of your attraction, including installation: our installation technicians assemble the structures to the highest professional standards to ensure attention to each and every detail. All our installations are tested by qualified personnel so as to ensure utmost project safety and performance.
After sales and Maintenance:
whether a complete restoration project, or a planned intervention, below are the services we offer:
Expert advice, technical assistance, reports and engineering works
Periodic inspections and checks
Scheduled and extraordinary maintenance, supervision of the maintenance of the attractions.
ECO-FRIENDLY ENVIRONMENT POLICIES
We believe in respect for the land and the environment by selecting materials with low environmental impact and favouring the construction of water parks that can fit into the bio-ecological context of the territory.
Given that we use 100% renewable energy and modern equipment with energy-efficient engines, ours is a zero environmental impact factory.
Interested in our services? Any questions or concerns?
We specialise in designing water parks!